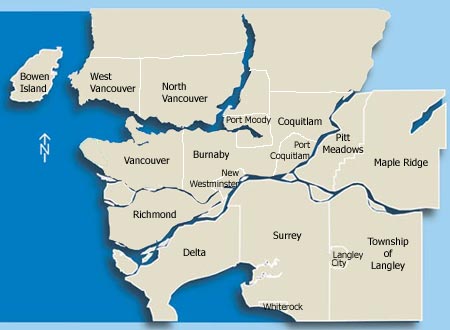 Ocean as front yard. Mountains as walls. Forest as carpet. Beaches as balconies. This is home to almost two million people. They call it the Lower Mainland of British Columbia, Canada. Vancouver is its heart and soul.
A dynamic and stimulating city pulsates. Multi-cultural communities thrive. Colourful neighbourhoods live and breathe. World-class companies and family businesses export to the world. This is a vibrant metropolis.
Golf in the morning. Sail in the afternoon. Ski at night. Take in the sights, sounds, and smells from Chinatown to the funk of Commercial Drive. Shop at public market or international boutique. Cycle, hike, or simply be hip. This is the urban action.
Arrive by float plane and depart by helicopter. Zoom from city to suburb on SkyTrain, SeaBus, or West Coast Express. Cycle from False Creek to Westminster Quay. Cruise by ferry to the Sunshine Coast and magnificent Vancouver Island. This is transportation in a city on the move.
Brace yourself against ocean air from the Sea Wall to Lighthouse Park. Catch waves from Crescent Beach to Horseshoe Bay. Stroll parks from Stanley to Golden Ears. Gaze from Boundary Bay to Indian arm, from Grouse Mountain to the mighty Fraser. This is the spectacular.
Hike along Foreshore Park. Whisk the kids off to hockey, to swimming, to the playground down the street. Head into Vancouver to see whales (the Aquarium kind) or Grizzlies (the basketball kind). Enrich your child with theatre, music, art, and dance. Then it's off to the local library, the church, and the recreation centre. Make it a family day.
All this is within your reach.
Vancouver
and the surrounding communities of
Richmond
,
Burnaby
,
New Westminster
, North Vancouver,
West Vancouver,
Coquitlam
, P
ort Coquitlam
,
Port Moody,
Delta
,
Surrey
,
White Rock
,
Langley
,
Pitt Meadows
,
Maple Ridge
, Abbotsford, Mission and Chilliwack offer both quality of life and quality of urban amenities, of everything Greater Vancouver has to offer. Liveable communities in a liveable region. This is your home.